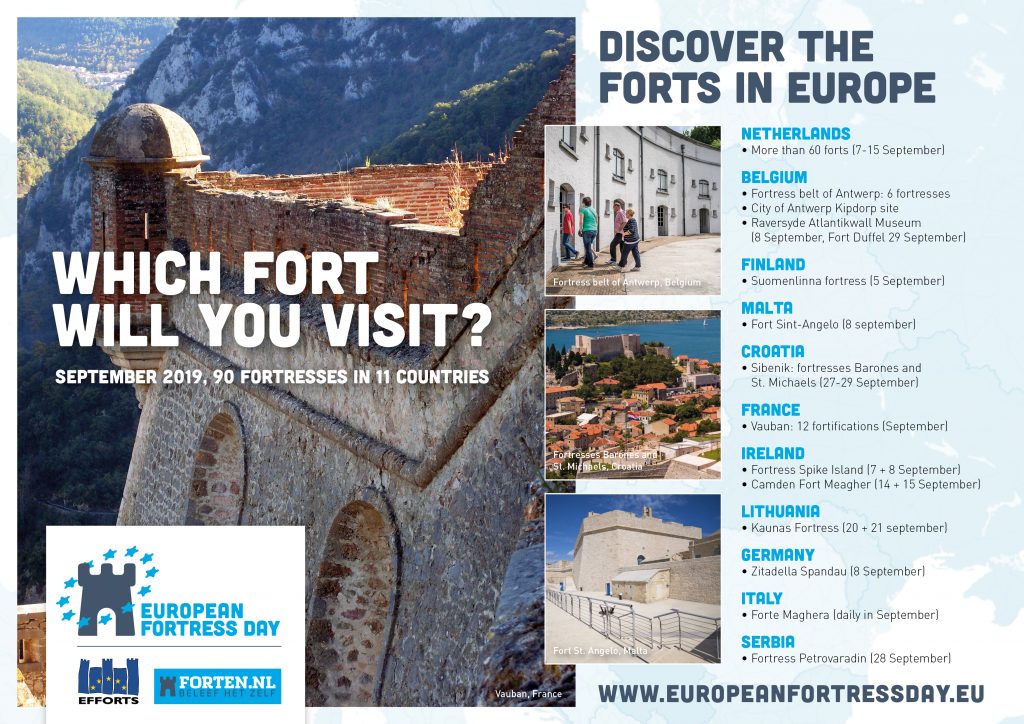 Camden Fort Meagher celebrates the
2019 European Fortress Day this Saturday and Sunday, 14th and 15th September 2019
. The European Fortress Day is an initiative run by
EFFORTS, the European Foundation of Fortified Sites
, and aims to celebrate the historic role of fortifications as critical forms of defence, as well as their more recent role as tourist attractions.
Camden Fort Meagher
is a coastal defence fortification originally built in the 16th Century to defend the mouth of Cork Harbour, the second largest natural harbour in the world. Camden Fort Meagher is internationally recognised as being one of the finest remaining examples of a classical Coastal Artillery Fort in the world. 65% of the Fort is located underground in a labyrinth of tunnels and chambers. The Fort has been open to the general public since 2010, following extensive restoration works by Cork County Council and Rescue Camden, a community backed team of passionate volunteers. As of January 2018, Camden Fort Meagher has acted as one of the international pilot sites for the 
European Union Horizon 2020 CUTLER project
, which aims to use big data analytics to improve and inform decision making and increase the resiliency of urban coastal locations. During the
2019 European Fortress Day
, visitors will be able to explore the vast array of attractions at the Fort, via guided tours, such as The Bright Tunnel, as well as view several unique exhibitions. Additionally, to celebrate European Fortress Day, there will also be a number of special events taking place over the weekend to enhance visitors' experience at the Fort, including; a live re-enactment (14th); live music from the Cork Light Orchestra (15th), a special exhibition from artist Sheila O'Sullivan (14th and 15th), and; the presence of on-site historian Tom Burnell (14th and 15th). The inaugural
European Fortress Day at Camden Fort Meagher
also coincides with the Fort's final week of operation for the 2019 season, so make the most of your last chance to see the Fort in 2019 and visit this weekend.